Updated Website
Why does the website look a bit different?

At the beginning of 2023, we migrated our Mortons Farm website to a new platform. This change was prompted by several issues some of you encountered last year, such as difficulties with completing orders or experiencing duplicate charges. Our goal was to make your ordering experience smoother and more reliable this year.
Why cant I login to my account

Unfortunately, when we moved to shopify we were unable to transfer customer accounts and logins from the old platform to the new one, as that data belongs to you, not us. Therefore, to purchase from us again, you will need to create a new account and log in.
How do I see my previous orders?

Because of the site migration we moved your order data but not your account details, so youll need to recreate your account.

If once you do you don't see your previous orders and you're unsure about the size of the bird you ordered in the past, please don't hesitate to get in touch with us. We'll be more than happy to assist you by providing information about your previous order(s).
What happens if I dont see my historic orders once I login?

If you have recreated your account but do not see any historic orders, don't panic - we have the details in our management system. Drop us an email if you need a reminder on the bird size you ordered previously.
Delivery and Collection:
What is the last date I can order for Christmas delivery?

The last date of ordering for Christmas is the 19th December, for both courier delivery and collection, however, we may have limited stock if left too late, so please do call us on 01692 538067
When will my order be delivered?

We offer all-day delivery on Friday 22nd December via our courier service with DHL
Celebrating early? If you need your turkey sooner – just pop us an email with your order number and we will send it out on your required date (between 10th -21st December available)
You can also pick up your order from our farm. Farm pickup is available on the 23rd (7am to 6pm) and 24th December (7am to 12pm).
How will my turkey be delivered?

We use a national next day delivery service (DHL), all our birds are packed in insulated boxes with ice packs using biodegradable wool insulation and will keep chilled in these boxes for up to 24hrs with ice packs.

DHL will send tracking information regarding your delivery time.  If no one is home, your order will be left in a safe place, please specify when ordering, where this should be.
What happens if I'm out when you deliver?

We always suggest leaving delivery instructions when ordering online, such as "leave in porch", "leave in garage" etc. If popping out leave a note on the door such as "please leave in garage" sign the note as this will act as a signed delivery for the driver.
Can I collect my order?

Yes, please feel free to collect your order from the farm; this will be available on the 23rd (7am to 6pm) and 24th December (7am to 12pm).
Getting the best from your bird
How do I store my turkey?

Remove the bird from its packaging, if your order contains giblets, remove them from the box and store separately in the fridge.  Place the bird on a tray or large plate loosely covered in foil, on the bottom shelf of your fridge.  Please ensure that any liquid from the raw bird isn't accidentally splashed, as this can spread bacteria.  If the bird is too big for your fridge, put somewhere cool and out of reach of animals and children.

Alternatively, you can store it in the insulated box it comes in (best to keep the giblets in the fridge), top tip, the packaging comes with two ice packs, work on a rotation system, one in the freezer and one in the box and rotate round to keep your box chilled.
What size bird will feed my guests?

We suggest allowing 500g per guests, for example:

2 people: 1kg

3 people:1.5kg

4 people: 2kg

And so on, our smallest turkey is either a 4kg Norfolk Black or a 4.5kg Bronze.

If you're looking for leftovers, look at the weight requirements per person for the recipe and add this on.
What is the best before date on my bird?

We prepare your birds just before courier pick-up, meaning that your bird will stay fresh if stored correctly up until Boxing Day. 

As we prepare the birds fresh, you are also able to freeze them, giving you additional shelf life if needed. 

Please ensure that the bird is defrosted in the fridge thoroughly before cooking.  A large bird can take up to 48 hours to defrost in the fridge.
What is the difference between the Bronze and Black varieties?

The Bronze turkey gets its name from its shimmering feathers, which appear metallic in sunlight.  They are a slower growing breed with a full flavor, moist meat and firm texture.

Our Black/Bronze turkey has a full, gamey flavour and the best of the best of the bronze and black combined. They have moist, succulent meat with a firm texture.
What type of prepared turkey should I pick?

If your family likes tradition and white and dark meet then choose a bronze turkey.

If you like only white meat then choose the bronze turkey crown.

We have a very small collection of 5kg (feeds 12) black/bronze turkeys if you preferred flavour.
Why does my bird still have some feathers?

Some turkey varieties have smaller feathers or quills still intact after preparation, this is completely normal and they will shrivel up during the cooking process, for easy removal.
Cooking my turkey
How should I cook my bird?

Please see cooking instruction booklet included in you order.
Will my bird fit in the oven?

A standard sized oven should fit up to a 10kg bird.  If your oven is smaller, you could try a crown or rolled bird.
How should I cook my bird in an AGA?
Should I cover my bird in foil during cooking?

We recommend covering your bird with foil for the duration of the cooking time; removing for the last 30 minutes, to allow the skin to colour.
How do I know when my bird is cooked?

To ensure that your bird is cooked, you need to check that it has reached 70°C (for a minimum of 2 minutes) or the juices run clear.  The best thing would be to measure the temperature with a meat thermometer.

The bird will hold its residual heat for up to an hour uncovered, giving you time to allocate your oven to other items.  If you are cooking your bird even earlier, cover tightly with foil and wrap in tea-towels, this will keep the heat in for several hours.
How should I store my leftovers?

Tightly cover your leftovers and store them in the fridge for up to 3-4 days.  If freezing, divide into portions so you only defrost what you need.  You can leave frozen for up to 3 months.
Bird Welfare
Are your bird's free range?

Yes, all our birds are free-range and treated to the highest of standards.  Our birds have copious amounts of outdoor space to explore and thrive!
How do you look after your birds?

We maintain the highest standards, regarding diet, space & welfare conditions to ensure our turkeys have a happy, healthy life.
What do you feed the birds?

Our birds are well fed on a diet of locally sourced cereals combined into a nutritious feed by our local feed mill and supplemented with oats that finish the birds perfectly at 24 weeks of age, they also get to roam the fields and collect whatever vegetation they find on the farm.
How do you prepare the birds?

All our birds are treated with the utmost care and attention; they are dry plucked and game hung to promote a rich full flavor, with soft, moist meat.
How long do you rear your birds for?

All our free-range turkeys are reared up to 24/25 weeks of age (6 months). You may find cheaper birds in the supermarkets but there's a reason, they may have only be reared for 16 weeks.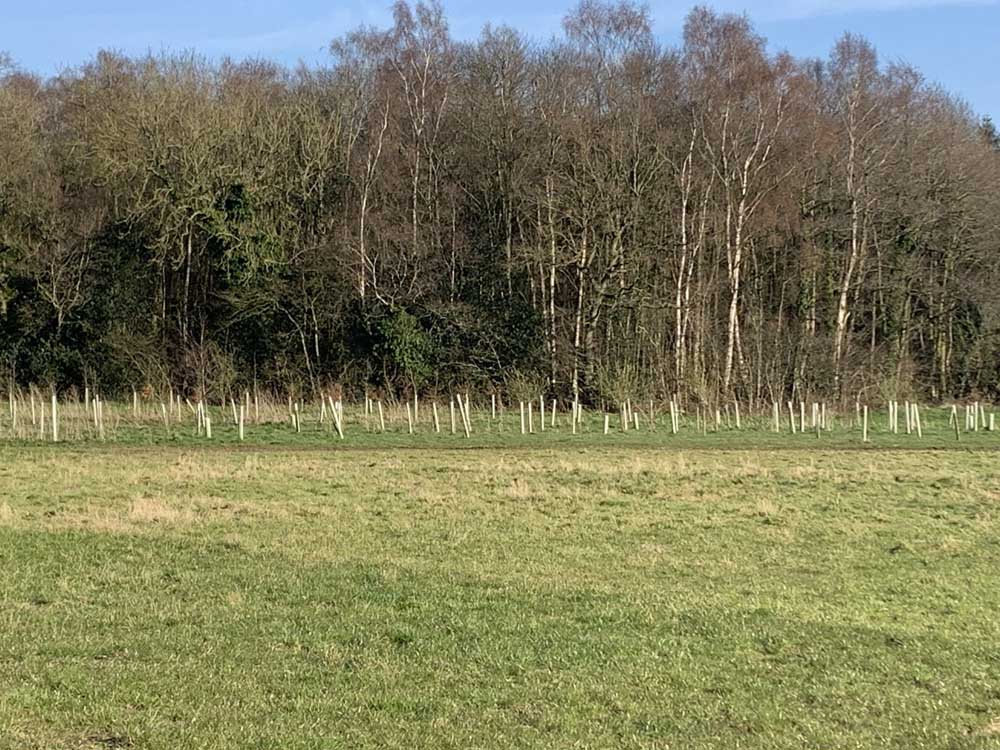 Free-roaming and free-range
Our free-range turkeys, ducks, chickens and geese are very special. We use traditional breeds like the native Norfolk Blacks and free range Bronzes which are slow to mature allowing them to develop full of flavour.  Which make for the perfect Christmas dinner.
Our turkeys start off as day-old chicks in their 'turkey hotel' – a large covered area to keep them warm and protected from the elements. As soon as they're old enough, they move off into the great outdoors where they're free to scratch, peck and get into mischief!
This sees some of our young turkeys found in the trees (they're woodland birds after all) and it's the open pastures of our farm that allows them to roam freely that makes them happy, healthy birds which results in the very best turkeys money can buy.
Everything is carried out on our farm, from the rearing of the chicks to the growing of our own grains to feed the birds and that is why when the time comes, our birds are humanely treated with care and respect in small batches by our dedicated team.
We're a small farm committed to rearing the very best free-range poultry and grass-fed meats that taste the way they should. Plenty of flavour, gamey and moist.
That's the Morton's Family Farm way.