Regular price
Sale price
£40.00 GBP
Unit price
per
Sale
Sold out
Out of stock
FIRST TIME ORDERING? Check we deliver to you before placing your order.
Our free-range Norfolk bronze boneless rolled turkey joint is ideal for you this Christmas if you prefer white meat. Enjoy all the delicious flavour of our free-range Norfolk Bronze rolled Turkey breast, but with none of the waste and no bones at all!  
As recommended by Good Housekeeping magazine.
"Morton's have thrown the whole kitchen sink at this one. Each environmentally-friendly, biodegradable-insulated box contains the brand's signature, free-range bronze turkey breast, which was beautifully moist with a crisp buttery skin"
Why choose a Norfolk Bronze

Our Norfolk Bronze free-range turkey is the delicious centrepiece of your Christmas meal.

Norfolk Bronze turkey has a sweet, delicious flavour, producing generous quantaties of meat, that stays moist and succulent.

This is a true taste of old-fashioned Christmas. Plenty of delicious flavours, that taste wonderful hot or cold. This is one Christmas turkey roll you won't mind having leftovers from!
The Mortons standard

Our rolled turkey breast joints are our same award-winning Norfolk Bronze, rolled into an easy-to-carve joint that is the perfect alternative to a whole bird, perfect for smaller families or for sharing with friends.
Delivery dates

All National deliveries will be sent on Thursday 21st December for delivery on Friday 22nd December 2023.

You are welcome to collect from our farm in Norwich, Norfolk on either Friday 22nd or Saturday 23rd (until 1pm) please select accordingly at checkout.
Delivery exclusions & costs

National delivery is charged at £14.50 per order, this includes the 100% pure sheep's wool packaging - the greatest natural insulator on Earth

We use wool liners, as whilst they are a little more expensive they are extremely effective at keeping chilled produce at the correct temperature for up to 48 hours.

The sheeps wool and ice packs which naturally keep your order in perfect condition, ready for you to unpack and pop in the fridge.

We do not deliver to the Highlands & Islands including postcodes AB31 to AB38, AB40 to AB56, IV1 to 28, IV30 to 32, IV36 to 40, IV52 to 54, IV63, KW1 to 14, PA21 to PA38, PH4 to PH41, PH49 to PH50
What size do I need?

We recommend you allow 250g per person, but it goes without saying that this is excellent cold in sandwiches, so order larger if you want leftovers.

All sizes are approximate, we will get a breast joint as close as possible to your chosen weight. (Don't worry, it won't weigh less than you choose!)
How long do I cook my rolled turkey breast for?

Weigh the turkey breast and calculate 40 mins per kilo, plus an additional 20 mins.

1 Take the turkey breast out of the fridge and allow it to come to room temperature for an hour.

2 Heat the oven to 190C/170C fan/gas 5. Put a rack inside an oven tray with the onions and carrots underneath, or arrange the veg inside an ovenproof frying pan.

3 Weigh the turkey breast and calculate 40 mins per kilo, plus an additional 20 mins.

4 Rub the butter over the skin and season well. Put the turkey breast on the rack or rest it on top of the veg in the pan.


5 Roast for the allotted time, taking the foil off 20 mins before the end to brown the skin. Test with the point of a knife and see if the point feels hot as soon as you pull it out (be careful) and the juices run clear. If you have a thermometer then it should read 65-70C. If the joint appears to be underdone, then put back in the oven for another 10 mins.

6 Leave the turkey to rest for 20 mins somewhere warm, it will keep cooking so the final internal temperature will rise to 70C, or just above that. Don't skip this step otherwise the juices will run out as you carve.
Share
View full details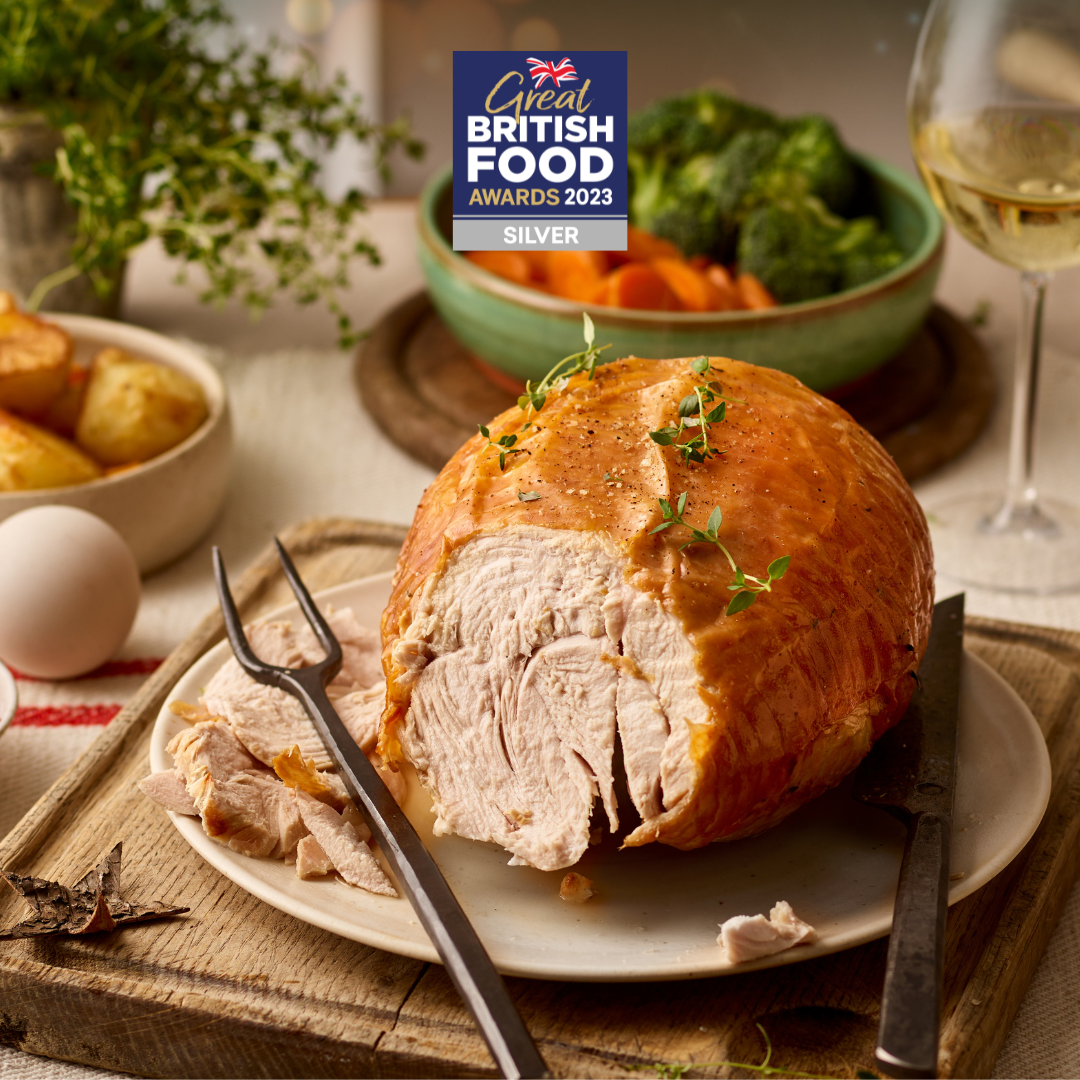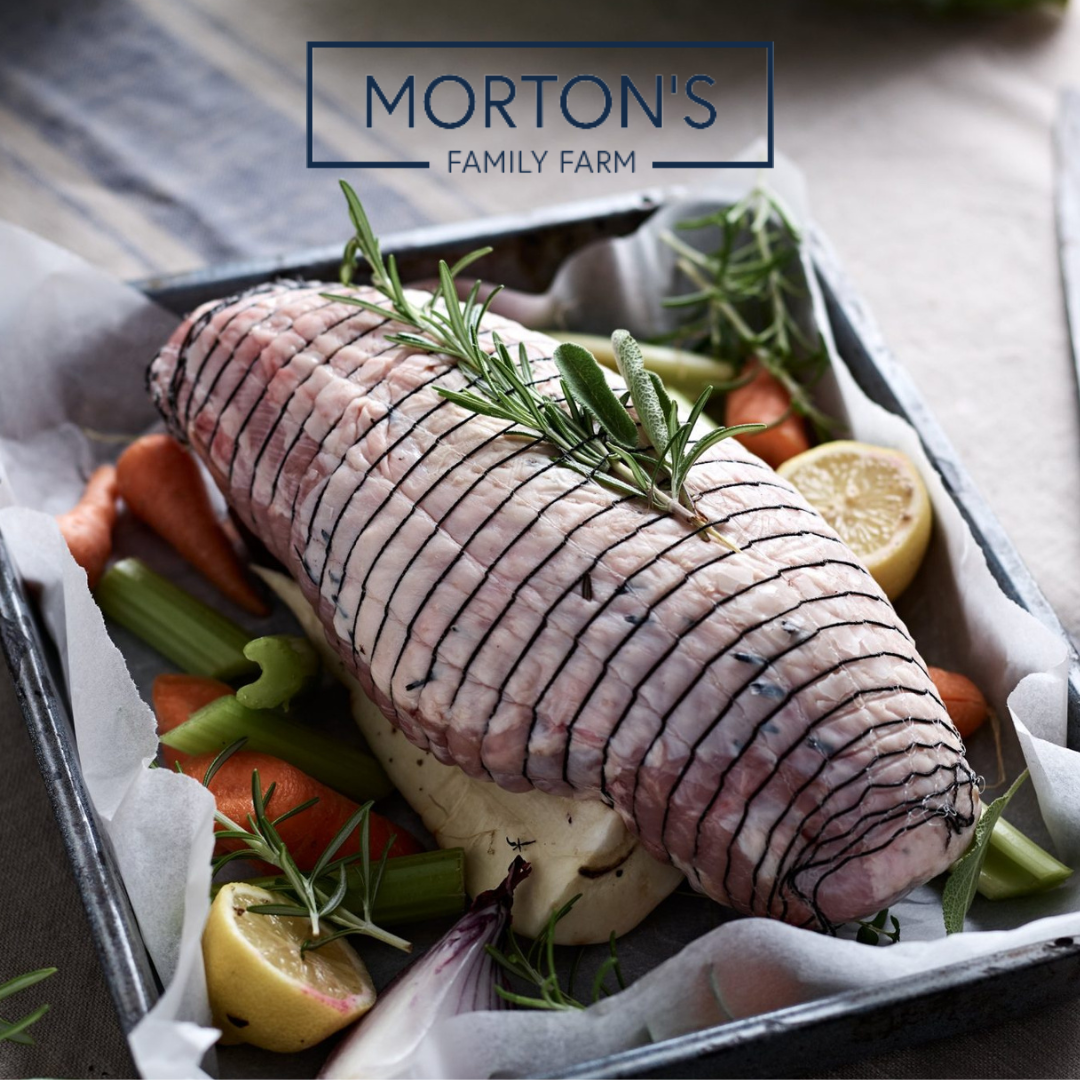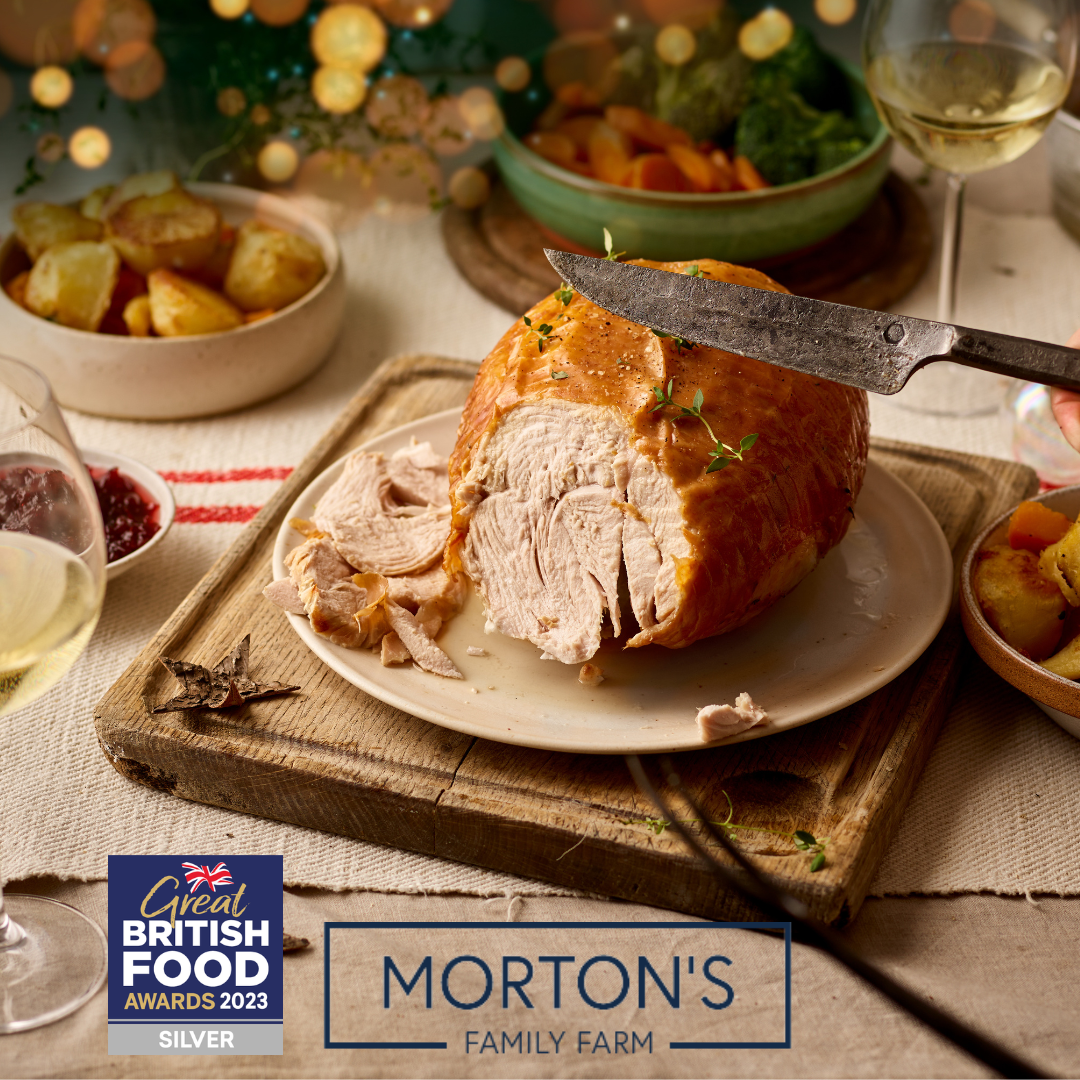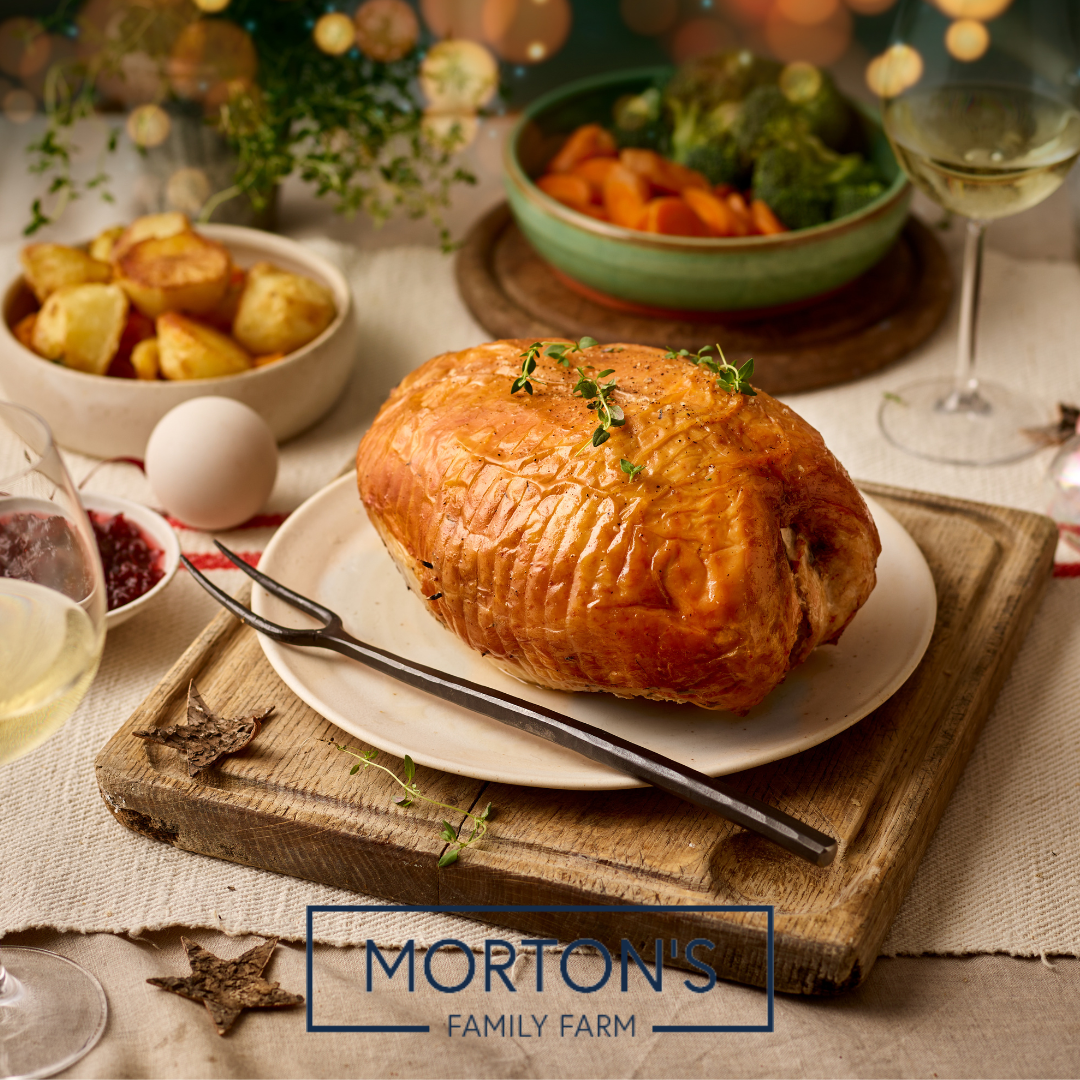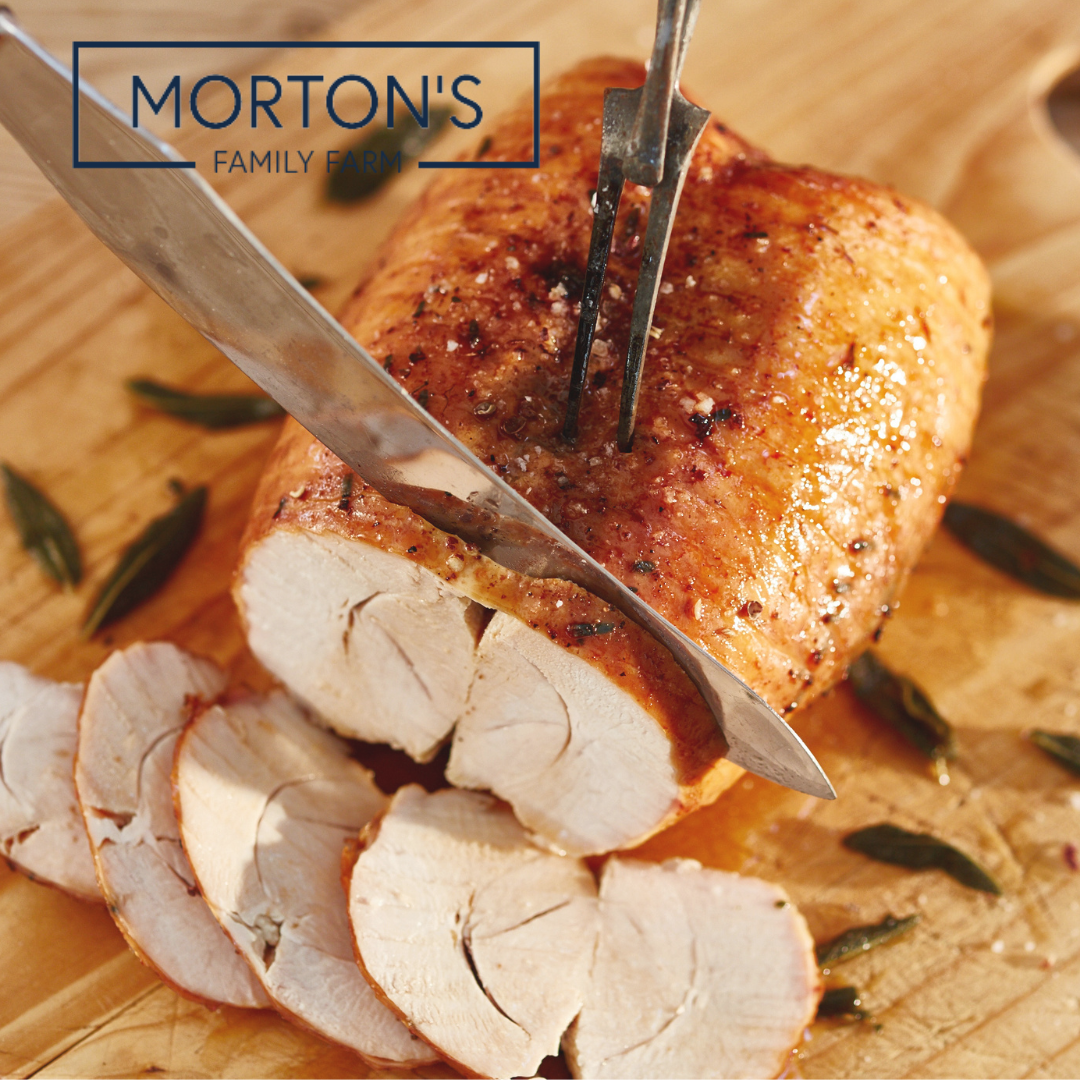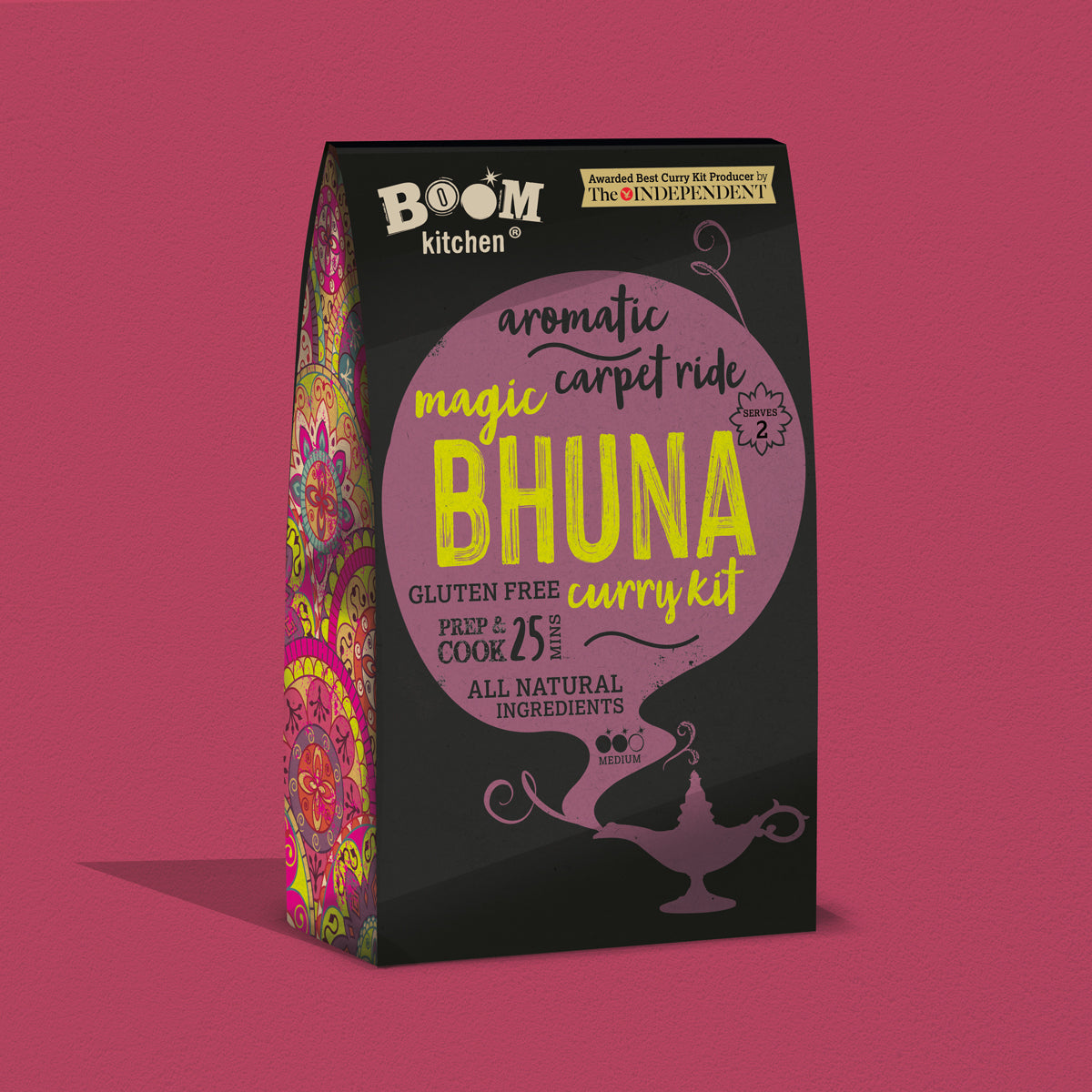 FREE Magic Bhuna kit also included in your order - Worth £4
The aromatic magic carpet ride starts the moment you chuck the whole spices into the pan. Cinnamon and cloves woven with smoky black cardamom on a bouncy underlay of Kashmiri Chilli. 
Curry Kit includes:
· Boom Base™ -  onion based gravy stock for a true restaurant flavour
· Boom Spice Mix - fresh spices ground in small batches 
· Whole Spices - cassia bark, green and black cardamom and cloves
Recipe card:
· Shopping list for 'add at home' ingredients 
· QR code on side of kit for Boom Kitchen's Boxing Day left-over turkey curry recipe 
Button label